Arkansas Crawl Space Contractor in Little Rock, Fort Smith, Fayetteville, AR
Why Choose Us?
Fast, Professional Installations
A Written, Transferable Warranty
More Than 30 Patented Products
Certified, Insured Installers
Competent, Friendly Service
Free, Written Estimates
... And Much More!
Learn more About Our Company
The Bug Man promises to protect your health and property by delivering the highest level of professional crawl space moisture control and encapsulation.
Our Professional Services
We offer a variety of home improvements and repairs for individuals who need work done on their below-grade spaces. Whether you're looking for crawl space repair or waterproofing our certified professionals are here to help you!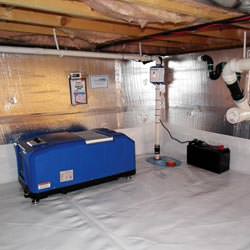 Crawl Space Repair
Whether your crawl space is showing signs of flooding, humidity, moisture, structural damage, or it's just plain cold, we have a full line of products and services that provide permanent solutions for your problem.
Our CleanSpace® Vapor Barrier System includes a 25-year, written, transferable warranty for durability and quality in workmanship. A typical complete installation is begun and done in a single day.
Our innovative SilverGlo™ Insulation is a fully waterproof way to waterproof your crawl space walls while also providing a complete vapor barrier on the surface. For your floor, our TerraBlock™ system is a durable, waterproof solution that really stands up!
Our Services include:
Fast, Professional Installations
At The Bug Man, our installation crews specialize in repairing and upgrading below-grade spaces -- it's what we do every day!
We pride ourselves on our fast, professional installations. In most cases, a complete installation of our warrantied systems can be completed in one, perhaps two days.
Special care is taken by our crews to minimize dust and debris during the installation process. Any debris created during the installation is removed by us as we install your system. We want to leave your space looking as clean as we can!
Contact us today for a Free Estimate for crawl space repair services in Fayetteville, Fort Smith, Little Rock, Jonesboro, Hot Springs National Park, North Little Rock, Springdale, Rogers, Benton, Conway , Russellville, El Dorado, Jacksonville, Paragould, Searcy, Van Buren, Texarkana and the surrounding Arkansas area.